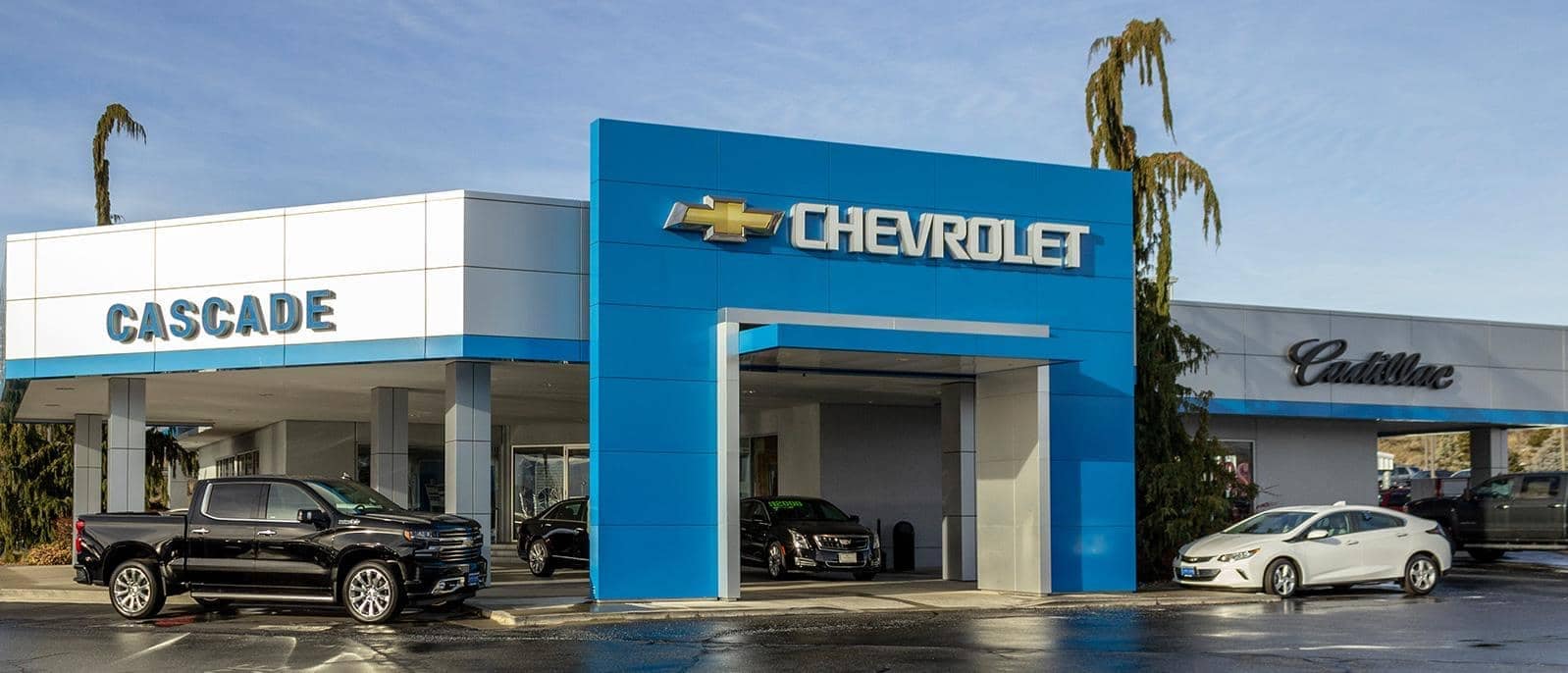 Welcome to our new website!
We have a strong and committed sales staff with many years of experience satisfying our customers' needs. Feel free to browse our inventory online, request more information about vehicles, set up a test drive or inquire about financing!
If you don't see what you are looking for, click on CarFinder, fill out the form, and we will let you know when vehicles arrive that match your search! Or if you would rather discuss your options with our friendly sales staff, click on Directions for interactive driving directions and other contact information. We look forward to serving you!
The Cascade Autocenter Story
In 1932, the dark clouds of the Great Depression still hovered over the land as the nation's voter selected Franklin Delano Roosevelt as the new president. The news headlines of the day were calling the Lindberg baby kidnapping the, "Crime of the Century". In Wenatchee theaters, Shirley Temple starred in her first film and "Grand Hotel", with Greta Garbo won the Academy Award for Best Picture. On the radio you could hear such hits as Count Basie's, "April in Paris" and Bing Crosby's, "Brother Can You Spare a Dime?"
The news up and down Wenatchee Avenue in 1932 was about the great gamble Don Miller had taken by opening a brand new Chevrolet dealership in such uncertain economic times. In a year when 1000 banks would fold and 20,000 businesses go bankrupt, the odds for survival were not promising.
Both the Great Depression and the words of woe have passed and what began long ago as North Central Chevrolet at 239 North Wenatchee Avenue has now grown into the Cascade Autocenter complex at 148 and 150 Easy Street.
In 1980, North Central Chevrolet was purchased from the Miller family by Steve and Jane Baldock. The product and service lines included new Chevrolet cars and trucks; used vehicles; GM service and parts departments; and a collision repair center. With a change in ownership came a new name, Cascade Chevrolet Company.
In 1985, the dealership expanded with the addition of a Mazda franchise. A separate sales department for Mazda products was relocated to a leased building at 150 Easy Street. Five years later, Jeep/Eagle and Subaru franchises were added to the growing inventory of Cascade product lines.
A desire to combine all operation under one roof led to construction of a new, custom designed dealership at 148 Easy Street in October 1992. The 44,000 square foot facility was located on 4.7 acres of land. At this time the product lines included Chevrolet, Geo, Mazda, Jeep/Eagle, Subaru and supporting service and parts departments, and a stand alone collision repair center. In November 1997, the GM lines of Oldsmobile were added to the franchise list. Corporate requirements that brought the two new GM brands to Cascade also called for exclusive positioning of GM product lines. This agreement set in motion construction of a new 30,000 square foot dealership located to the north of the existing facility at 150 Easy Street.
In January 1999, Cascade North opened the doors to its new Subaru/Mazda/Jeep dealership. Along with new and used sales, this state-of-the-art facility also houses a full service and parts department along with Cascade's car rental and internet departments.
Today, Cascade Autocenter has survived and thrived during challenging times as a Chevrolet, Subaru, Mazda dealership. Even as market conditions have shifted, Cascade's core business philosophy of "More Than Expected"service, has not. It is the solid foundation that our dealership is built upon.
Why You Should Buy From Cascade Chevrolet In Wenatchee, WA
At Cascade Chevrolet, our team diligently works to provide you with the ultimate Chevrolet car-buying experience. At our dealership, we believe the car buying and repairing process should be simple and stress-free, which is why we make it easy to find the Chevrolet car, SUV or truck that's right for you and your budget. It's our goal to help you drive away in the Chevy of your dreams, so we'll help you get pre-approved instantly through our online tool. Whether you envision a new Chevrolet Silverado 1500, Chevy Malibu or Chevrolet Equinox, you'll find your favorite model on our lot. Plus, for those who are shopping on a budget, we offer a wide selection of Certified Pre-Owned Chevrolet vehicles, so you can save while enjoying a like-new Chevy. We've been in the automotive industry for over 80 years, so we know how to treat our customers with dignity, honesty and respect. In fact, we operate under our GUEST principle every day we come to work -- Greet every guest with Undivided attention, Engaged enthusiasm, Smile and smile again, and Thank them for visiting Cascade Chevrolet.
What truly makes our Chevrolet dealership in Wenatchee, WA, unique is our commitment to our community. Our dealership is actively involved with numerous non-profits in our backyard that aim to improve the health, education, animal and community fields. We take immense pride in our donations, and are thrilled to know that our efforts and sponsorships are making a difference in the lives of many within our community and beyond.